Start of main content.
Leadership
Successful leadership stems from a sincere desire to serve. Our Board and Cabinet members play a crucial role in ensuring that the mission of Catholic Charities is brought to life and constant with our values.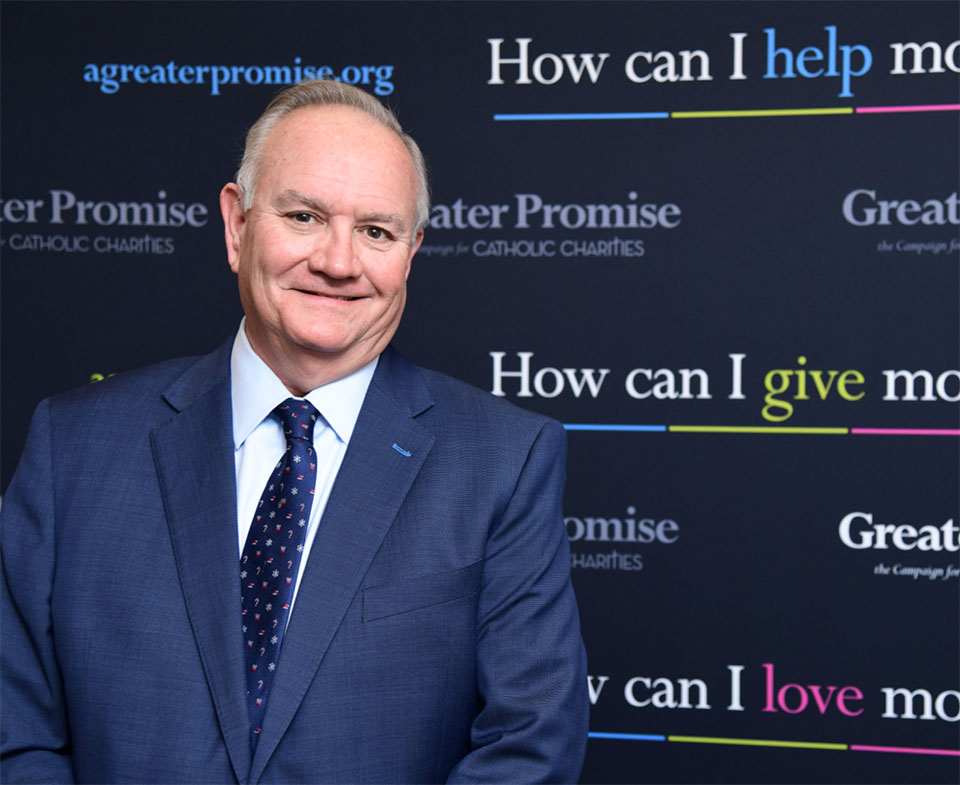 Every woman, man, and child arrives with an immediate need, and without regard to their circumstances, we open our doors and our hearts.

Executive Director
2023
Leadership Team
William J. McCarthy Jr.

Executive Director

Sarah Beckwith

Chief Financial Officer

Ashley Valis

Chief Operating Officer

Jocabel Michel Reyes

Chief Development Officer

Andy Wayne

Director, Communications

Val Twanmoh

Director, Advocacy

Amy N. Collier

Director, Community Services

Mary Choplick

Director, Senior Communities

Kevin M. Keegan

Director, Family Services

Zachary Richards

Nursing Home Administrator, Senior Healthcare
2023
Board of Trustees
Chair

Most Rev. William E. Lori

Archbishop

Archdiocese of Baltimore

Ex Officio

President

Theresa D. Becks

Community Volunteer

Vice President

Tamla Olivier

Senior Vice President and Chief Operating Officer

Pepco Holdings

Treasurer

Pamela W. Gray

Partner

SB & Company, LLC

Secretary

William J. McCarthy Jr.

Executive Director

Associated Catholic Charities, Inc.

Ex Officio

Attorney

David W. Kinkopf

Partner

Gallagher Evelius & Jones LLP
Marielsa Bernard

Senior Judge

Circuit Court of Montgomery County

Rob Biagiotti

Vice President

Exelon Business Services, LLC

Stephen J. Bisciotti

Owner

Baltimore Ravens

Michael Bison

Vice President of Corporate Tax

The Allegis Group

Salvatore DiPaola

President

Evergreen Advisors, LLC

Aileen Eskildsen

Chief Executive Officer

Ellin & Tucker

Mark Finn

Portfolio Manager

T. Rowe Price

Mary Gunning

Community Volunteer

Sam Malhotra

Chief Executive Officer

Subsystem Technologies, Inc.

Most Rev. Denis J. Madden

Titular Bishop of Baia
Auxiliary Bishop Emeritus of Baltimore
Urban Vicar for Baltimore City

Archdiocese of Baltimore Ex Officio

Aisha Jorge Massengill

Vice President and Deputy General Counsel; Employment and Teammate Relations

Under Armour, Inc.

Louis P. Mathews Jr.

Community Volunteer

Mark G. McGlone

Community Volunteer

M. Natalie McSherry

Principal

Kramon & Graham, PA

Catherine Motz

Executive Director

CollegeBound Foundation

John Minutoli

Senior Vice President

Truist

Jeff Nattans

Dr. Mimi Novello

President and CMO

MedStar St. Mary's Hospital

Carlos Muñoz-Lucas

Director, Private Markets

Raymond James

Most Rev. Bruce Lewandowski

Auxiliary Bishop Vicar for Hispanic Catholics

Archdiocese of Baltimore

Most Rev. Adam J. Parker

Titular Bishop of Tasaccora
Auxiliary Bishop of Baltimore City
Vicar General and Moderator of the Curia

Ex Officio

Brett Plano

Co-Founder and Owner

Plano-Coudon Construction

Daniel Rizzo

Innovation Fellow

Inovalon, Inc.

Terrence Sawyer

President

Loyola University Maryland

John P. Stanton

Executive Vice President, General Counsel & Corporate Secretary

Under Armour, Inc.

Marc Wyatt

Vice President, Head of Global Trading

T. Rowe Price
A faith which is lived out in a serious manner gives rise to acts of authentic charity.