Start of main content.
Catholic Charities Welcomes Chief OperatingOfficer
Baltimore, Md. – Catholic Charities of Baltimore announces the hiring of Ashley Valis as the agency's first chief operating officer. The newly created role will be responsible for strategic oversight, operational excellence of programs and services, human resources, and leadership of our strategic planning process and initiatives.
Valis has an extensive background in human services and brings strong knowledge and experience in community engagement, government & public policy, strategic planning, and goal achievement. She joins the organization after eight years at the University of Maryland Baltimore's office of community engagement where she most recently served as executive director. Prior to UMB, Valis held various positions in former Governor Martin O'Malley's administration most notably as assistant chief of staff, where she had direct oversight of four state agencies, and deputy director of intergovernmental affairs where among other responsibilities, she advised the Governor on county and municipal legislative and budget priorities. Valis says she looks forward to blending her career experiences into her new role.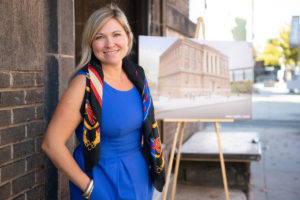 "I've always admired the work of Catholic Charities throughout the state of Maryland," said Valis. "There have been numerous points in my career where I've noticed overlap in my personal passions and the key causes of the agency. Now I have the opportunity of gaining a better understanding of the direct impact the programs have on the communities we serve on an individual basis. I appreciate the passion everyone has for the work we do, understanding the dynamic between service provider and neighbor, and how to come together to consistently strengthen that relationship."
Valis will report directly to Catholic Charities Executive Director Bill McCarthy.
"We are thrilled to have Ashley join our team," said McCarthy. "She is a passionate, mission driven and results focused leader. Ashley is a relationship builder and community driven. She is a daughter of Baltimore. We believe firmly in her ability to help drive and further our mission and realize our vision."
Valis holds a Bachelor of Science degree in family and community services from the University of Delaware, and a Master of Social Work from the University of Maryland School of Social Work.
Valis begins May 9, 2022.
About Catholic Charities of Baltimore
Catholic Charities of Baltimore is Maryland's largest private provider of human services, with more than 80 programs in 200 locations to serve children and families experiencing homelessness and poverty, individuals with intellectual disabilities, immigrants and seniors without regard to religion, race or other circumstances.
Media Contact
Shawna Prince
Manager of Media Relations & Editorial Content
667-600-2007 (o)
872-572-1873 (m)
[email protected]