Start of main content.
Catholic Charities Announces New Chief DevelopmentOfficer
BALTIMORE, MD — Jocabel Michel Reyes joins Catholic Charities of Baltimore, Maryland's largest private provider of human services, as Chief Development Officer, overseeing strategic development efforts supporting the organization's more than 80 programs in 200 locations.
Michel Reyes joins the agency as a mission-driven visionary leader with more than 20 years of non-profit and development experience. Most recently she served in successive roles including director of advancement for Jhpiego, an international, non-profit health organization affiliated with The Johns Hopkins University dedicated to improving health care for families everywhere. She also served as senior associate director of development for the department of medicine at Johns Hopkins University, and director of development at The University of Texas at El Paso (UTEP). Prior to UTEP, Michel Reyes served as a policy research associate and policy associate for ethics and accountability at Independent Sector in Washington, D.C., where she performed research and statistical analyses and co-authored several publications on philanthropic trends.
"I was drawn to Catholic Charities of Baltimore because of its expansive work throughout Maryland to ensure every woman, man, and child that comes to us gets immediate access to the services and resources they need, without regard to their circumstances," said Michel Reyes. "As the daughter of immigrants, the work we do to welcome new neighbors and help those in need resonates with me personally. Catholic Charities of Baltimore is an integral part of our community. I am honored to be part of its talented team that is committed to making a meaningful difference in Maryland."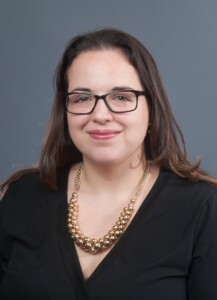 "This is an exciting time for Jocabel to join Catholic Charities as we complete the Greater Promise campaign and commemorate our 100 years of service to our neighbors and community," said Catholic Charities Executive Director Bill McCarthy. "We are thrilled to have Jocabel join our leadership team, bringing an incredible track record of leadership, team building and development success along with a passion and true understanding of our mission and work.
Michel Reyes earned Bachelor of Arts degrees in economics and public policy from Brown University. The Texas native also earned her Master of Business Administration in international business from UTEP.
Michel Reyes and her husband live in Timonium with their two daughters.
ABOUT CATHOLIC CHARITIES OF BALTIMORE
Catholic Charities of Baltimore celebrates 100 years of improving the lives of Marylanders in need. Established in 1923, inspiration came from the direction of Bishop Carroll in 1792 that one-third of parish revenue would be provided for relief of the poor. Today, 100 years stronger, the organization is Maryland's largest private provider of human services, with more than 80 programs in 200 locations. Catholic Charities focuses on the key causes of Achieving Independence, Welcoming New Neighbors, Empowering Careers, Supporting Children & Families, Healing Trauma & Addiction and Aging with Dignity. Inspired by the gospel mandates to love, serve, and teach, Catholic Charities is committed to a Maryland where each person has the opportunity to reach his or her God-given potential. www.cc-md.org
Media Contact
Shawna Prince
Manager of Media Relations & Editorial Content
667-600-2007 (O)
872-572-1873 (M)
[email protected]